Radiation Detection
/
Theremino Mca
/
日本語ページインデックス
...
English Documents
/
掲示板
---
分解能補償(テレミノMCA) Resolution compensation in Theremino MCA
テレミノMCAには、「分解能補償機能」が備わっています。
Theremino MCA has the resolution compensation feature.
「分解能補償機能」は、シンチレーター式測定機において分解能不足によって平坦になりがちなスペクトルの凹凸を強調し、スペクトルの特徴がより分かりやすくなります。
It enhances the peaks of spectrum that tends to become more or less flat due to the lack of resolution, which is common among many scintillation detectors.
---
例えば、このスペクトルは、慣れた人ならば、何が含まれているのか見当が付くかと思いますが、ピークはそんなにはっきりしていません。
For example, someone who has a bit of experience can guess which isotopes are creating bumps and peaks in this spectrum. But it's not so pronounced.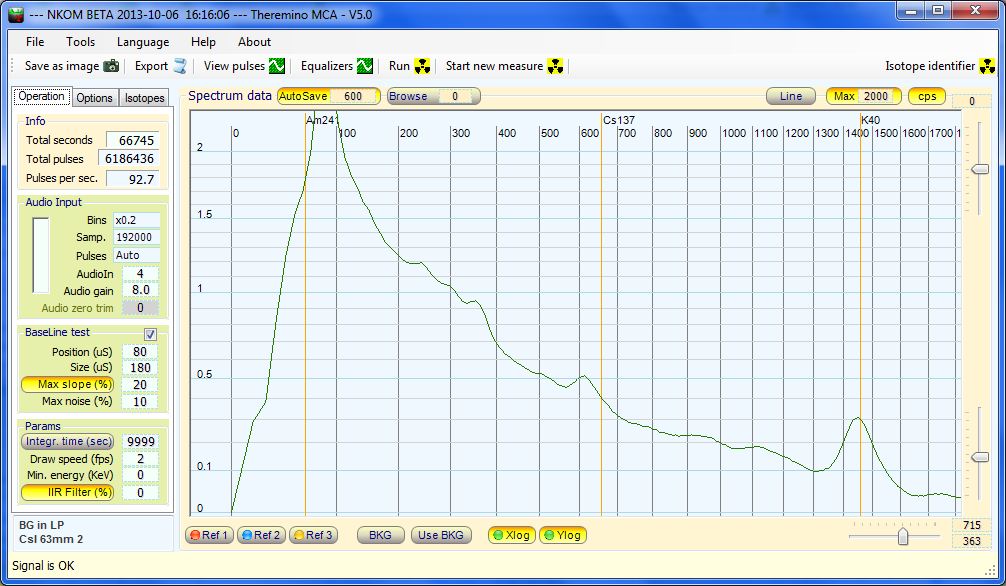 ---
「分解能補償機能」を使って、凹凸を強調すると、もう、一目瞭然です。
By turning on the resolution compensation, it's pretty clear, now.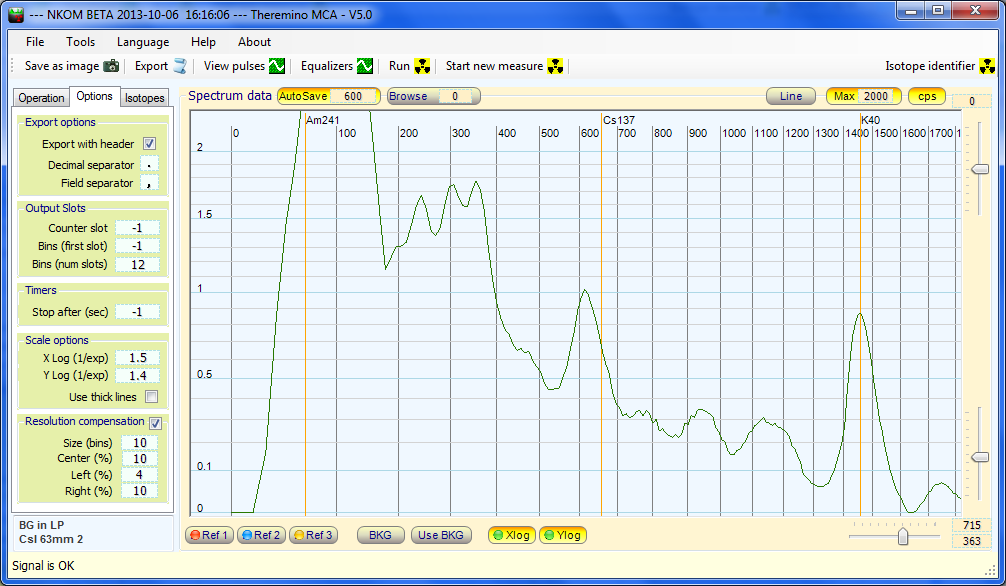 ---
核種マーカーを表示してみると、Pb214, Bi214, K40に一致していることが分かります。 Be7は,個人的に興味があるので、マーカーを出してみましたが、多分、このスペクトルには、入ってないだろうと思います。Am241は、単なる消し忘れです。
With the isotope marker, it's evident that this spectrum shows the sign of Pb214, Bi214, and K40. I put the marker for Be7 as I'm interested in it, but I don't think it's in this spectrum. And I forgot to turn off the marker for Am241.
---
「分解能補償機能」で強調したスペクトルを、「Ref2」のボタンを右クリックして水色で記憶し、「分解能補償機能」を切って比較します。
By right clicking the Ref2 button, I put the spectrum emphasized by the resolution compensation into the reference memory No.2, and compared against the straight spectrum.
---
この様に、特によく滑らかになったスペクトルに、適切な設定で使用した場合、分解能不足などで埋もれがちなピークを際立たせることにより、スペクトルの理解を深めるのに役立ちます。
適切な設定は、使用する測定機の分解能、そして、チャンネル倍率などによって違いますので、色々お試しください。
詳しくは、テレミノMCAのヘルプメニューから、「プログラムヘルプ」をご覧ください。
または、こちらのリンクからご覧いただくことも出来ます。 http://pico.dreamhosters.com/soft/ThereminoMCA_Help_JPN.pdf
As we could see, the resolution compensation feature can enhance the peaks otherwise pretty dull when used with proper setting, and especially with the spectrum that has become nice and smooth.
The optimal setting for resolution compensation differ depending on the resolution of the detector used, and also depending on the number of bins/channels per given energy or Bin/Channel multiplier factor.
Please try out different setting that provide the best result for you.
For more information on the resolution compensation, please take a look at the document by clicking Help menu and program guide inside Theremino MCA.
Alternatively, you can read the document from this link : http://pico.dreamhosters.com/soft/ThereminoMCA_Help_ENG.pdf