Radiation Detection
/
Pmt Probe
....
Theremino Mca Spectrums
...
Theremino Pmt Adapter
 / 日本語情報 =>
Theremino Mca
/ Francais =>
Theremino Mca Fr
/
English Documents
---

---
Theremino MCA NKOM beta
This page was for (not yet official) experimental and expanded version of Theremino MCA.
As of V6.1, "NKOM Beta" is merged with main code. However, please use the latest snapshot in this page till the code in the Theremino site is updated.
---
Theremino MCA is a gamma spectrometry software for detectors that uses audio input for sending signal, such as Theremino Pmt Adapter, Armadillo Detector, Chappy detector, Sovtube Detector, Imetry Detector, and others.
---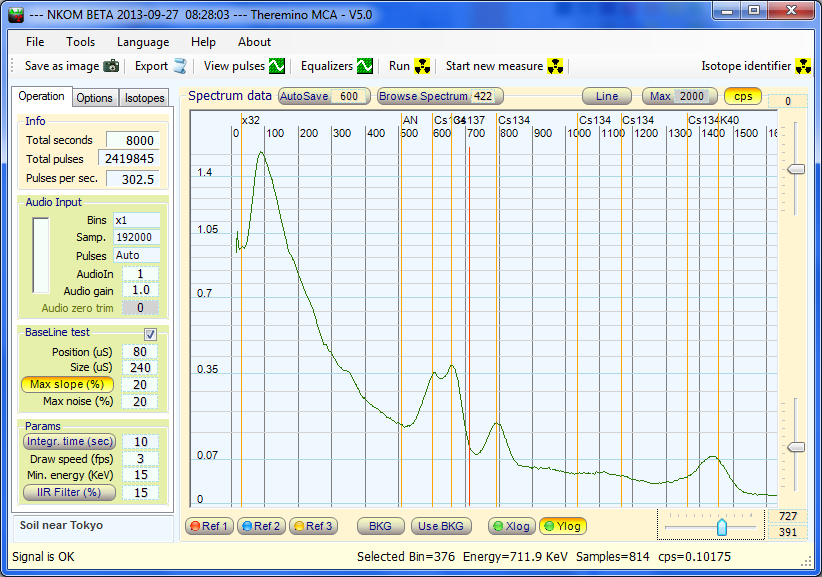 ---
If you want to try EXPERIMENTAL and extended version of Theremino MCA from snapshot
http://pico.dreamhosters.com/soft/Theremino_MCA_V6.2_WithSources.zip

---
Added features
Modified Background subtraction method
Ability to export and import SPE file format (used by MCA-166, MCA-527, Kromek GR-1, Polimaster PM1703MO-1A/B, etc)
Bug report, feature request ==> nkom AT pico.dreamhosters.com
---
How this update looks like
Most of these features are already implemented. I'm currently adding some missing items and debugging.
If you want to try out new feature (even if some of new features may have known bugs and others can be missing), please mail me for the snapshot: nkom AT pico.dreamhosters.com
Ability to add/sum/subtract/differentiate supectrums in series (and save the result if desired) with expanded Browse Spectrum dialog.
Numeric control of 3 sliders. This removes guess work when you want exact settings.
Count/cps scale marking. Easier to see the count/rate.
cps output for the marker in the status bar. Just a little nicer.
Max button number goes up exponentially, saving time to roll mouse wheel or to hit cursor key.
See up to 4MeV range (if supported by probe, etc). Seeing full potential/limit of your instrument if needed.
Show rejected pulse in Pulse viewer. And show slope, Noise1 and Noise2 percentage, as well as reason for the rejection. And you can chose the rejected pulse by the reason.
Rejected for ringing,  Noise,  and slope.
   
Show both rejected pulse and valid one.
   
Raw data mode to show data without any filtering.
Show graph with vertical bars.



3 different spectrum showing mode, line, bar, and dot.

Editable and selectable isotope markers. Let you fully customize them for your convenience.

---
Future
---
Cantact: nkom AT pico.dreamhosters.com